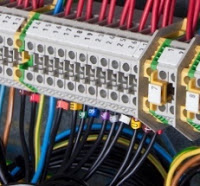 Nu we het proces in kaart hebben gebracht, wil ik u meenemen naar het inrichten van de artikeldatabase. Want wat hebben we nodig om een goed schema te maken en daarna de juiste gegevens te kunnen exporteren zoals montageplaat indelingen maar ook draden en klemmenstroken…
En 
de keus van het juiste artikel bepaalt uiteindelijk de uiteindelijke kosten van het project!
Tijd, de belangrijkste factor. 
Je hebt tijd nodig om de artikeldatabase goed te vullen. Neem die tijd ook, of maak er tijd voor vrij. Beter 1 keer alles goed inrichten dan later merken dat je zaken toch nog mist. 
Overleg met collega's, bepaal wat je nodig hebt aan het eind van het project.
In dit artikel neem ik u mee naar wat gedachten over effectief artikelbeheer. Hierin wil ik het volgende behandelen.
Welke gegevens zijn minimaal nodig?

Op welke wijze kunnen we databases effectief inzetten

En tot slot zullen we zien welke tijdwinst dit oplevert.
Meerdere databases?
Werk met meerdere databases, de beheer database waar je zaken in voorbereid. Een database waar de gebruiker uit kan putten, en een test database.
Heb je meerdere firma's als klant, denk dan eens aan klant specifieke databases. Immer kun je een of meerdere schema's aanmaken die schakelen tussen de databases.
Via Opties > Instellingen > Gebruiker > Beheer > Artikelen, maak je eenvoudig meerdere schema's aan, die dan weer de juiste database kunnen aansturen, zowel de Mdb als de Sql databases.
Vink dan ook eens "artikelselectie met schemaselectie"  aan. Dan kun je als je een artikel wilt gebruiken, selecteren welk schema je wilt gebruiken en daarmee de gewenste database.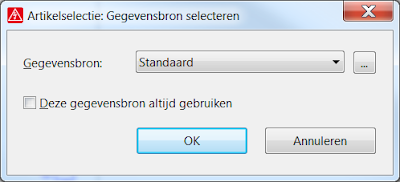 Artikelgegevens.
Welke gegevens zijn noodzakelijk voor artikelen?
Artikelnummer

ERP Nummer. (Koppeling)

Omschrijving in meerdere talen (Welke taal wil de klant?).

Lengte, breedte en diepte (3D).

3D model (past het?).

Verliesvermogen (Ritherm).

Opgenomen stroom (Hoe groot moet de voeding zijn).

Werkspanning.

Aansluitgegevens zoals aansluitbeelden en functiesjablonen (Routeren).

Mechanische gegevens zoals boorsjablonen (CNC).

Indien aanwezig certificaten, en technische bladen (Export).
Allereerst een artikelnummer, een uniek nummer, al dan niet voorzien van een ERP nummer, bestelnummer, en een omschrijving.
Let op je taalinstelling!
De omschrijving kun je in principe invoeren met de Nederlandse taal geselecteerd. Let op dat dit heel belangrijk is. Start je met het vullen van de artikeldatabase en/ of met je project, zorg dat de brontaal juist staat.
Het zal niet de eerste keer zijn dat je teksten invoert die later in het verkeerde taalveld zijn ingevoerd. Het is mij ook overkomen en die fout maak je maar 1 keer.
Hoe dat moet, zie de help file of je trainings documentatie.
ERP Nummer
Belangrijk voor koppeling met bijv. inkoop systemen. Zo kun je bestellijsten maken en die laten importeren in uw inkoop systeem, en dan kan men daar een selectie bij wie het beste ingekocht kan worden.
Vaak is de goedkoopste niet de beste. Goedkoop met een onbetrouwbare levertijd, is toch weer duurkoop.
Deze is belangrijk. Kies voor pdf's op het netwerk.  
We willen fysiek op een tevoren afgesproken plek, de gegevens hebben.
Immers internet links kunnen verlopen na verloop van tijd.
Ander voordeel is dat je bij het creëren van een pdf, in een bepaalde taal, deze extra informatie kan genereren en plaatsen bij de bewuste pdf export in die taal, (het zijn aparte files, niet geïntegreerd in de project pdf). 
Hoe dat gaat dat leg ik later uit. Of kijk in een van mijn webinars destijds gemaakt toen ik nog bij EPLAN werkte.
Tot slot zorgen we ervoor dat de velden zoveel mogelijk gevuld zijn, die we tevoren hebben bepaald. Denk bijvoorbeeld aan de velden voor UL certificering, maar de eigen extra eigenschappen.
Alle mechanische elementen die een bewerking nodig hebben worden voorzien van een boorpatroon.
Elektrische aansluitingen.
Ieder artikel krijgt (natuurlijk) het juiste functie sjabloon, evt. Aangevuld met een schema macro. Deze macro zal later gebruikt worden bij het engineeren en uiteindelijk zullen we de macro's gaan inzetten om schema's te genereren.
Natuurlijk gaan we 3D macro's inzetten om het paneel op te bouwen. Deze worden voorzien van de juiste gegevens om later te kunnen hergebruiken. Je kunt alleen de maten gebruiken, dan worden de onderdelen weergegeven als een kaal 3D object.
Maar we gebruiken uiteraard 3D step-files. Waarom?
Aansluitingen kunnen beter geplaatst worden, omdat je ziet waar deze zich moeten bevinden.

Montagepunten en basispunten kunnen nauwkeuriger gepositioneerd worden.

Het is herkenbaar bij montage en in het veld.

Het oogt beter, de opdrachtgever ziet wat hij besteld heeft.
Deze 3D macro's worden standaard voorzien van een lokaal aansluitbeeld want die hebben we nodig om later de draden te kunnen routeren. Want ik heb al uitgelegd hoe een monteur de draden gaat aansluiten en dat willen we door routeren gaan automatiseren.
Uiteindelijk kan ik het aansluitbeeld welke lokaal gemaakt is, omzetten naar een aansluitbeeld die door meerdere artikelen gebruikt kan worden. Deze word dan opgenomen in de artikeldatabase.
Wat is het uiteindelijke doel.
Wat wil je met al deze gegevens. Omdat EPLAN een database is, kun je de data die er ingestopt is, er ook wel uithalen.
Verbindingslijsten, apparaat codes voor coderingen, draadnummers en ga zo maar door.
Er kunnen verbindingslijsten worden gemaakt, op de wijze zoals men gewend is, eerst de hoofdstroom, dan de stuurstroom, en dan de onderliggende verbindingen, al dan niet in volgorde van draaddikte en kleur. 
Ook al heeft men functioneel ontworpen! Het is mogelijk. 
Ofwel handwerk behoort dan tot het verleden, Pro Panel en routering kan dat veel sneller. Hierdoor kun je dan gebruik maken van Smartwiring.