Naarmete het ontwerp proces van een paneel vordert, en we hebben deze in een layoutruimte ontworpen, word het tijd voor de volgende fase. We gaan de verbindingen routeren binnen het 3D paneel. Het spreekt voor zich dat je wel de juiste licentie hebt aangeschaft anders heb je alleen een 3D ontwerp.
De echte kracht zit het in het routeren van alle bedrading, via de korste weg en de meest optimale route.
Artikelbeheer.
Basis van routering is het 3D model voorzien van aansluitbeelden. Deze kunnen zowel lokaal worden geplaatst als middels artikelbeheer. Bij het bijbehorende artikel koppel je dan een aansluitbeeld. Handig als meerdere artikelen gebruik maken van 1 type aansluitbeeld.
Let op dat aansluitingen overeenkomen met het functiesjabloon bij het artikel.


Wanneer merk je als het niet overeenkomt? Dan zie je ineens bij je 3D object extra aansluitingen verschijnen vaak met xyz waarden 0.


Routeringsbox.
Het is goed te weten dat rondom een 3D object zich een soort "routeringsbox" bevindt. Je ziet deze niet, maar is wel aanwezig. En er is een bepaalde afstand nodig van die box tot aan het eerste routeringspad. Waard om daarmee rekening te houden.
Mijn werkwijze
Hoe routeer ik een paneel.
Allereerst automatisch. Hier bepaald EPLAN aan de hand van de positie van het onderdeel en de verbinding, de meest optimale route.
Handmatig
Het kan zijn dat dit niet geheel lukt, en dan ga ik handmatig routeren. Ik gebruik veelal de optie
"Ingang in het routeringspadnetwerk definiëren".
Hierbij selecteer ik een onderdeel, en selecteer dan het routeringspad waardoor de draden gerouteerd moeten worden.
Je krijgt dan een venster waarin je kunt aangeven welke verbindingen door deze selectie moeten worden gerouteerd. In de help van EPLAN is een en ander terug te vinden.
Waar ik ook wel gebruik van maak is het toepassen van verbindinggfilters. Ik geef dan aan welke draden, opgegeven in de verbindingsdefintie, door welke goten geroutereerd mogen worden.
R
outering handmatig veranderen.
Ook dit is mogelijk om de routering van een draad, ergens anders te laten routeren.
Filters
Soms wil je dat bepaalde draden niet door een bepaalde goot gerouteerd moeten worden.
Ik maak dan gebruik van een " filter".
Opties > Instellingen > Projecten > "Projectnaam" > Routeringsverbindingen > Algemeen.
Kies het tabblad Verbindingsfilter. Je moet hier kiezen op welke verbindingseigenschap gefilterd moet worden, en daarbij vul je een bepaalde waarde in. In dit geval heb ik ingevuld "REG" van regelaar.

Dan selecteer je het routeringspad, waar de filtering moet plaats vinden, en klik op de … naast "Layoutruimte: Verbindingsfilter" en selecteer "actief" en de betreffende waarden.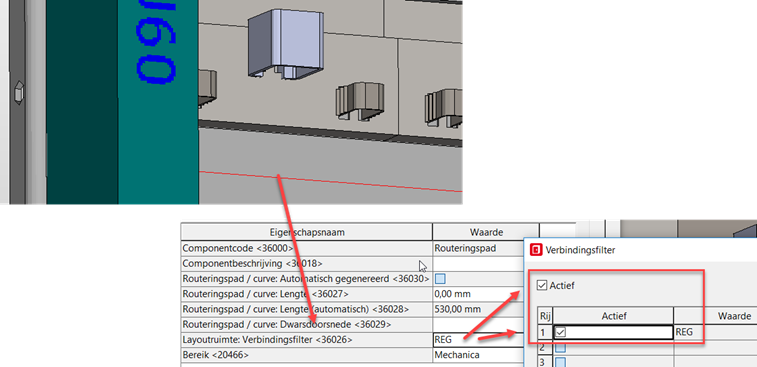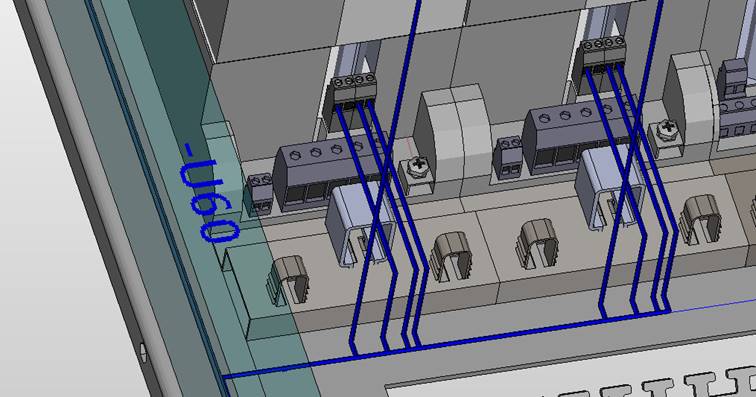 Het resultaat is nu dat alle potentialen door dit filter gerouteerd gaan worden.
Let op:
Het is niet mogelijk om 2 routeringspaden te definieren in de goot. Het is of het een of het andere filter. Dus niet van filter 1 mag alleen van links onder in de goot, filter 2 rechts bovenin de goot. Dan moet je of een goot erbij plaatsen of, kijkend naar bovenstaand voorbeeld, gebruikmaken van een " routeringspad".
Als routeren niet goed gaat.
Mocht het routeren niet gaan zoals gewenst, selecteer dan het onderdeel waar het mis gaat, en zet (indien nog niet aangevinkt) aansluitbeeld op lokaal. Speel dan met de richtingen boven, onder, links of rechts, of met de xyz vector. Hoe dat laatste werkt staat in de help van EPLAN.
Door het onderdeel apart te selecteren en te kiezen voor routeren, dan word alleen dat onderdeel gerouteerd.
Zichtbaar maken van reeds gerouteerde draden.
Vaak als je een andere view kiest, of even naar een andere pagina springt, dan lijken alle draden ineens weg te zijn. Dan zou je opnieuw kunnen routeren, maar dat is niet nodig.
Open de verbindingen navigator, klik met je muis ergens in die navigator. In het snelmenu heb je dan de 2 opties, of een geselecteerde draad weergeven, of alle draden weergeven.