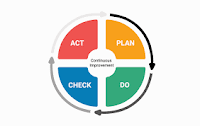 Vaak wordt gedacht dat standaardiseren, hergebruiken van schema's, ophoud als het de standaardisatie traject klaar is.
Mijn mening? Dan begint het pas.

Wanneer is een standaardisatie klaar?
Ik denk nooit. Het blijft een proces van steeds weer gaan nadenken, wat kan sneller, efficiënter. Hoe implementeer ik nieuwe ideeën, hoe implementeer ik innovaties van het bedrijf in mijn standaard.
Kijk naar de toekomst.
Welke technologieën zijn aanwezig om het werk nog sneller, en efficiënter te doen.
Welke volgorde handhaaf je. Eerst de basis schema opzet maken, controleren op de werking, routering, meldingen beheer. Of gelijk starten met een macroproject?
Ik ga voor de volgorde project, macro project.
Macroproject, als tweede stap?
Ja nu pas. Ik heb eerst de schema's gemaakt op basis van de aanwezige informatie. Natuurlijk voor zien van artikelen. En dan artikelen voorzien van 3D gegevens, aansluitbeelden en boorsjablonen.
Uiteindelijk getest en meldingen beheer gebruikt om vreemde zaken op te sporen.
Laat het testen door de gebruiker, of andere partijen die er mee moeten gaan werken.
En van die basis, daar gaan we de macro's van maken.
Kennis overdracht
En hoe gaan we alles qua kennis overdragen, dat is belangrijk. Als men niet weet hoe een en ander ingesteld is en ingesteld moet worden, dan dan loop je vertraging op bij het "genereren" van projecten.
Daarnaast, als je panelen extern laat bouwen maak dan een dan een goed protocol dat duidelijk de stappen en de grenzen aangeeft.
Informatievoorziening
Naar de toekomst kijken is ook bepalen met het team, welke output gaan we genereren voor de toeleverancier. Wat is nodig, wat is niet nodig. Welke extra (cloud) oplossingen gaan we wel en niet gebruiken.
Welke output is "need to have" en welke "nice to have"?
E-Pulse, project in de cloud?
Inmiddels ben ik uit nieuwsgierigheid aan het testen met Epulse van EPLAN. Account aanmaken is simpel. Het project uploaden ook, en collega's en toeleveranciers toegang geven is met een druk op de knop te realiseren.

Dan kan men je project inzien, commentaar bij zetten, die je dan weer kan verwerken op de zaak. Het maakt geheel niet uit waar je op dat moment bent, met Eview is dat overal inzichtelijk.
Samenvattend:
Standaardisatie houdt niet op bij de oplevering, dan begint het pas.
Een duidelijke visie en stategie zijn noodzakelijk om de volgende stappen te doen in het proces.
En vergeet niet: het is en blijft teamwork….