Er is nog weleens verwarring wanneer je bouwgroepen gaat toepassen en wanneer modules. In mijn tijd bij EPLAN heb ik dat eens uitgezocht, maar ook in de praktijk bij ben ik dit weer tegen gekomen. In deze blog wil ik een en ander toelichten.
Voor het uitleggen van modules wil ik eerst even teruggaan naar functiegericht ontwerpen. ObjectWe hebben een object. We kunnen dan de vragen stellen: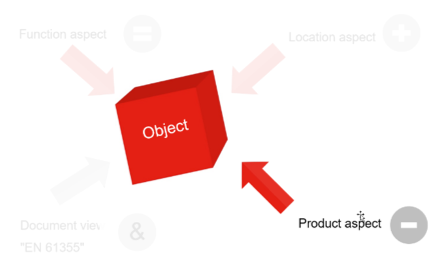 Wat doet het het object? (functie)
Waar bevindt zich het object? (locatie)
En hoe is het object opgebouwd? (productaspect)
Laten we inzoomen op het product. Het product kan bestaan uit meerdere producten. Als voorbeeld een frequentieregelaar van Lenze. De gehele regelaar krijgt de ODC U1, maar bestaat hier uit meerdere onderdelen, welke ook een ODC hebben.
In dit geval heeft deze Lenze regelaar een backplane, de regelaar zelf, alsmede enkele toegevoegde componenten zoals een brake-control, communicatie unit enz.. Dit geheel kun je dan zien al een module. Een module is: "Een verzameling artikelen die bij meerdere gemeenschappelijk geneste onderdelen hoort." In ons voorbeeld:
Aansluitbasis
Regelaar die erop word gemonteerd.
Bediening die op de regelaar hoort
Communicatie module
…
Deze unit heeft totaal 1 ODC maar heeft daarnaast geneste apparaten met een eigen ODC. Verder kijkend in de help van EPLAN. "Een module kan artikelen, bouwgroepen en andere modulen bevatten. De artikelen in een module bevatten daarnaast ook informatie over de artikelvarianten. Speciaal bij de apparaatselectie en bij verwerkingen wordt dan ook rekening gehouden met de technische gegevens van de varianten."


" Daarnaast, modulen hebben dezelfde eigenschappen als artikelen, maar bevatten daarnaast ook lijsten met subartikelen (zogeheten moduleposities). Deze subartikelen worden via een onderliggende ODC of een zogeheten "Module-ID" geïdentificeerd."

Ster/driehoekEen ander voorbeeld is een ster-driehoekschakelaar.Deze is eigenlijk 1 object, bestaande uit meerdere objecten die de aansturing verrichten.Ook dat zijn aparte onderdelen met een eigen ODC, met de overkoepelende ODC van de gehele unit. Bouwgroepen.Dit zijn samenstellingen van onderdelen, zoals bijv. EAO bediening elementen. Deze worden als het ware samengesteld uit diverse artikelen. Deze kunnen of apart besteld worden, maar vaak zie je ook een bestelnummer dat bepaalde bijbehorende artikelen bevat.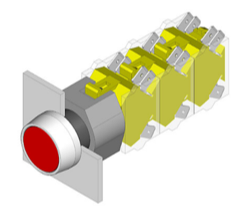 Omdat we hier spreken over 1 ODC, S1, H1, soms een combinatie van schakelaar en een indicatie, gemonteerd op 1 voet, blijft de schakelaar S1, en blijft de indicatie H1, en dan kunnen we deze beschouwen als bouwgroep. Kijken we in de help dan kunnen we daar het volgende lezen. Een bouwgroep is een verzameling artikelen die bij één onderdeel horen. Kenmerken.
Heeft een eigen artikelnummer
Kan zelf ook bouwgroepen bevatten.
Artikelen in een bouwgroep bevatten ook informatie over de artikelvarianten.
Speciaal bij de apparaatselectie en bij verwerkingen wordt dan ook rekening gehouden met de technische gegevens van de varianten.