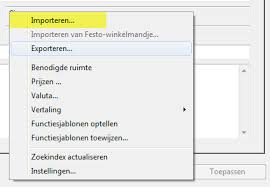 In de vorige post heb ik laten zien welke gegevens je nodig hebt om een schema juist te kunnen inrichten. In dit gedeelte wil ik een aantal tips geven om de database snel te vullen. 
Dataportal
1e stap, maak gebruik van dataportal. Dan haal ik vast een basis op, en bewerkt die naar mijn wensen. Je kunt zoeken op artikel, en dan volgt er al snel een lijst met artikelen die het zoek gegeven bevatten.
Dan ga filteren op basis van fabrikant en op 3D gegevens. Immers als ik 3D files kan binnen halen op een eenvoudige manier, dan  hoef ik ze niet te maken.
Zo heb ik laatst een reeks 3D files binnen gehaald van een fabrikant, om daarvan de macro's te kunnen maken voor andere wartels. Immers het te maken gat PG16, M16 is gelijk, standaard, alleen de vormgeving is wellicht iets anders.
De meest gemaakte opmerking is dat dataportal niet de macro's bevat zoals ik zou willen zien. 
Dat klopt, maar hoe de macro is opgebouwd is vaak een cosmetische zaak.
Maar gegevens zoals functiedefinities, artikelgegevens, maten en dergelijke kun je wel hergebruiken.
Zelfs de macro gebruik ik vaak om vanuit die basis alles naar mijn hand te zetten. En dat scheelt toch wel weer veel tijd.
Veelal word er gemopperd dat dataportal niet de gegevens bevat die men nodig heeft. Dan kun je 2 dingen doen. Of zelf een artikel aanmaken en inrichten, of niet mopperen maar vooral kijken wat kan ik gebruiken aan gegevens binnen dataportal welke ik nodig heb voor de engineering
Mogelijkheden zien en uiteindelijk toepassen is vooruitgang.
Voorbeeld.
Stel ik wil beveiligingen aanmaken, wat is dan een mogelijke werkwijze?
Doorgaans is het een reeks van waarden die je wilt gebruiken. Vanaf 1 – 64A bijvoorbeeld. Laten we uitgaan van een 1-polige beveiliging. Welke overeenkomsten ziet u dan?
Qua formaat zijn ze allen hetzelfde, qua aansluiting ook. Dat houdt in dat de 3D macro voor alle waarden kan worden toegepast, evenals de aansluitbeelden en functie sjablonen.
Het enige wat verandert is de omschrijving en de waarde, en wellicht het verliesvermogen.
Door nu 1 artikel aan te maken, en deze op de werking testen, kunt u deze later kopiëren om te gebruiken voor de andere beveiligingswaarden.
Een 2 polige macro is 2x zo groot, dan kun je de 1 polige als basis gebruiken, de maten en de waarden aanpassen, het functiesjabloon en de 3D macro en dan kun je daar op verder borduren.
Export naar Excel.
Wat ik meestal doe is een export maken van het artikel door gebruik te maken van een csv text bestand, deze te openen in Excel, en daar dan alles te kopiëren en aan te passen.
De volgende velden exporteer ik vaak, artikelnummer, omschrijving, hoogte, breedte en diepte, omschrijving, 3D macro, maar ook de hoofdgroepen, subgroepen waaronder het artikel valt. 
Tip 1: In de EPLAN help zijn deze codes terug te vinden.
Tip 2: Open eerst excel, en daarna het csv bestand. Kies welke separator je hebt gekozen, en dan selecteer iedere kolom en zet deze op tekst. Zeker de kolom met ERP anders krijg je een getal notatie.
Als je dus artikelen gaat aanmaken, vraag je je dan af: "welke artikelen, delen kan ik hergebruiken?''
Geen gegevens binnen dataportal?
Als een deel van de artikel gegevens niet te vinden is, dan kunt u een reactie achterlaten bij het artikel. 
Is het artikel of fabrikant geheel niet aanwezig, moet u bij de fabrikant op de website kijken en wellicht daar de gegevens ophalen. In de technische bladen staan vaak de hoogte, breedte en diepte, de maten, het verliesvermogen enz.


Gebruik 3D macro's
Vraag tevens een 3D step file op om te kunnen gebruiken in uw artikel. Het is niet nodig om een 3D file te gebruiken, immers zijn de maten aanwezig maar het gebruik van de 3D step file, macro, heeft zijn voordelen.
Het onderdeel is direct herkenbaar

Aansluitbeelden kunnen makkelijker worden gepositioneerd

Boorpatronen kunnen beter gecontroleerd worden

Het oogt beter
En als u toch een 3D model wilt gebruiken, en de fabrikant kan die niet beschikbaar stellen, dan zijn er tal van 3D sites waarbij gebruikers deze wellicht al gemaakt hebben.
Effectief inzetten van databases.
Er zijn een aantal mogelijkheden om uw database op te bouwen. U kunt al uw gegevens in 1 database opnemen. Dan heeft u alles bij de hand, en kunt u starten met engineeren.
Maar het is ook mogelijk artikelen te verdelen over meerdere databases. En dat klinkt wellicht vreemd, maar ik zal het u uitleggen.
In een engineering flow zien we altijd een aantal stromen. 
Artikelen die altijd gebruikt worden, die als het ware op de plank liggen, of waarbij u hele scherpe kortingen op krijgt.

Artikelen die weinig gebruikt worden, vaak op verzoek van de klant.

Artikelen die incourant zijn, die werden gebruikt maar soms nog voorkomen, met name in oudere eerder opgeleverde installaties.
Beheer database, hierin worden artikelen geïmporteerd en bewerkt, zodanig dat ze later gebruikt kunnen worden in de live database.

Live database, dat is de database waar dagelijks uit geput word, gekoppeld aan uw ERP systeem.

Klant database, 

met hun specifieke onderdelen.

Incourant database, waarbij extra velden gebruikt worden om een kenmerk te zijn voor welke klant het was, type machine, locatie van de incourante materialen. Zo kun je wellicht snel lokaliseren waar wat ligt…
Gewoon maar wat ideeën die me zo te binnen schieten.
Hou het wel simpel, want teveel is onoverzìchtelijk.
Voordelen
Vervuiling van de database wordt tegengegaan.

Alleen wat u gebruikt is opgenomen in de database.

Het aantal artikelen per database wordt lager, en hierdoor word de zoek snelheid hoger

Als er voor een bepaalde klant niet meer geproduceerd wordt dan kunt u die database verwijderen.
Artikelen synchroniseren
Je kunt gebruikte artikelen in het project overhevelen naar een andere artikeldatabank.
Dat kan via het menu punt: 
Hulpprogramma's > Artikel > Huidig project actualiseren
Hierbij worden de artikelen vanuit het project naar de centrale klant databank gekopieerd. Op die wijze kunt u effectief gebruik maken van reeds bestaande  gegevens en hoeft u niet alles opnieuw in te voeren.
En verder zijn de volgende menu punten ook erg handig.
Huidig project actualiseren: 
Kun je alle verouderde opgeslagen artikelen door nieuwe systeemartikelen vervangen.
Huidig systeem voltooien: 
Kun je de systeemstamgegevens aanvullen met alle in het project opgeslagen artikelen die nog niet in het systeem voorkomen.
De volgende blog.
De volgende blog zal ik wat dieper ingang op de werkwijze en het aanpassen van de cfg file die je gebruikt om artikelen met specifieke gegevens te kunnen exporteren, aan te passen en weer terug te lezen in artikelbeheer.
Tot slot…vergeet niet het grote gebod te gebruiken bij aanmaken van artikelen.
Maak voor dat je gaat aanmaken, wijzigen, importeren, altijd een backup van je database. Dit geldt niet alleen voor artikeldatabase, maar ook voor projecten. Wijziging? Maak eerst een backup van het project, artikeldatabase want: